We are pleased to announce that we have just gained planning permission to extend and remodel a 1960s estate house in Gosport.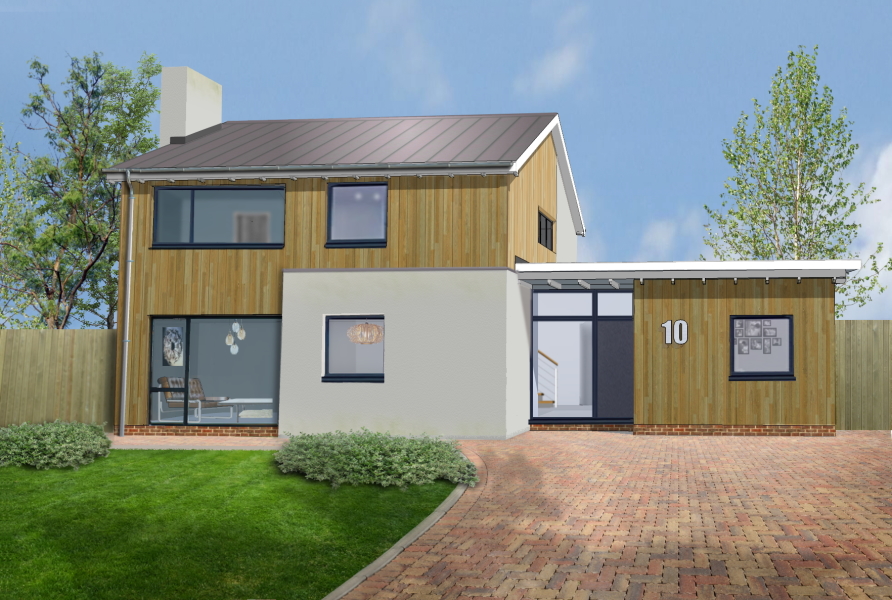 Extending and remodelling estate houses often present problems due to their low ceilings, the need to draw light into the older parts of the house and possible opposition from neighbours who might not take to new designs being introduced in their locality.
Our solution will replace the existing older style flat roof additions with a modern flat roofed extension which will wrap around the side and rear of the house with generous 2.7m ceiling heights and large eaves overhangs. The higher ceiling height will allow the extended and enlarged areas to have better proportions as well as taller windows and doors.
Internally the extension will open up to the existing kitchen and dining room at the rear to create a spacious 44m2 kitchen and family room which will lead onto a verandah beneath the flat roof. Elsewhere a master bedroom suite with wrap around glazed doors will be added and a utility and gym will also be built. The internal arrangements will see the staircase and third bedroom relocated and a galleried glazed landing installed. Externally the house will be remodelled with timber and render to match the great new layout and the old concrete interlocking roof tiles will be replaced with a metal standing seam roof with galvanised metal guttering.
Our well thought out design and clear proposals gained the all important planning permission without any obstacles.