Many families wanting to provide additional living space by increasing the size of their home turn to a conservatory company for the solution. But are the nice guys in suits who work at the double glazing and conservatory showroom the best people to talk to about extending?
Our customers are replacing their conservatories
If our current workload is anything to go by, many people who own conservatories are not happy with them. Of the last 25 projects that we have been involved in where our clients wanted to build a rear extension, 13 of the projects involved tearing down an earlier conservatory. Of the remaining 12 other schemes that did not involve demolishing an existing conservatory, only one these properties had an existing conservatory. In other words, of the last 14 projects where a conservatory existed, 96% of our clients wanted to get rid of it and build a proper extension in its place.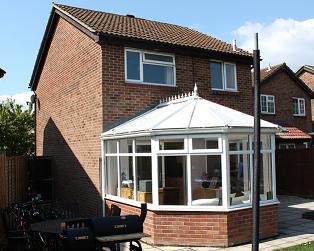 What our clients regularly tell us is; that the conservatory did not live up to expectation as a room to use all year round. "Too hot in the summer, too cold in the winter and too noisy when it rains" is what we typically hear. You can add to that, high fuel bills to try and maintain a reasonable temperature when the sun doesn't shine and in a few instances leaking roofs.  In most of these cases we are not talking about an old rotten wooden structures at the end of their life, but modern "shiny"  white UPVC conservatories that have in some cases only been up a couple of years and on a number of occasions have been erected for the current householder.  If in so many cases conservatories are not living up to the expectations of the homeowner, are the nice guys in suits at the conservatory showroom selling a crock or a dream?

Conservatories perform poorly
In an attempt to lure prospective customers in, the guys in suits at the window showroom may tell you how they offer a free planning service and that how most of their conservatories do not require planning permission or Building Regulation consent. However, it is the lack of these controls that give rise to the poor performance of conservatory structures. Among other things, Building Regulations require the structure to meet minimum standards when it comes to energy conservation, structural stability and construction.  One area rarely explained by conservatory salespeople is that the large external surface/floor area ratio of conservatories requires greater insulation than other parts of a house rather than less. Whilst these standards may seem a pain at the time of planning a new room, the controls are there for the benefit of the home owner and not the builder or salesperson.
What are the alternatives?
Modern well planned extensions with vaulted ceilings and overhead windows offer a much better all year round solution than conservatories. Higher levels of insulation are easily incorporated into extensions which help avoid the dramatic swing in comfort levels associated with conservatories. Unlike conservatories, extensions can be opened up if required to the room they are attached to, creating in the process multipurpose open plan spaces.   Proper foundations and building good insulated walls, floors and roofs does come at a price, which is more than that of a conservatory, however in terms of cost per usage or value for money, extensions are undoubtedly the winner.