When it comes to gaining consent for their project, many people are confused about the regulatory roles of their local council. Most people are aware of planning, but often don't realise there are two different consents that may be required.
Planning Permission
Planning permission is concerned with how the project relates to its setting and its neighbours. In determining the application the siting, design, scale and materials of the proposal will be considered, as well as its impact on neighbouring properties and the environment. Neighbours and the public have the opportunity to comment on planning applications through an open consultation during the planning process.
Planning applications are assessed against national and local planning policies taking into account the views of any objectors. Applications are decided by either planning officers or local councillors.
The public involvement and the role of local politicians in deciding planning applications can result in arguments for and against being both emotional and politically charged. Many planning policies are subjective in nature and therefore open to differing interpretation. The subjective nature of policies results in a degree of uncertainty regarding the outcome of most planning applications.
Building Control
Building control asses applications and the building work against national Building Regulations. The Building Regulations among other things safeguard a minimum standard of structural stability, sanitation, ventilation, energy conservation and access for disabled people. Building control not only determine applications, but carry out inspections of the work in progress.
Building control do not consult with the public and the regulations are written in a guidance style, with prescriptive requirements which are far less subjective in nature than planning policies. Building control is undertaken solely by technical surveyors without the involvement of local politicians in the process.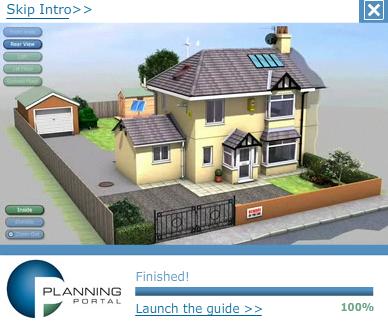 Which permission is needed?
Not all work requires Planning or Building Regulation consent. Certain small additions can be undertaken without consent being necessary which varies depending whether the house is attached or detached. Generally if you are building an extension or carrying out structural alterations, you will need Building Regulation approval. Other than for smaller extensions to the side or rear of a house, planning permission will be required. The Government's Planning Portal provides householders with advice as to whether certain projects require permission or not. In all cases I would advise either discussing the proposal with the local authority, or an expert in this field.